by Neema Busolo, Learnhall Contributor
In the city of Rahim Yar Khan, on March 3rd, 1987, a baby was born. They named her "Muniba" meaning "One who turns towards Allah, one who repents".
EARLY LIFE
Muniba attended Army Public School and later took a Bachelor of Fine Arts course in college. She was married off at the age of 18 years. She has two brothers: Sarfraz Ali and Zulfiqar Ali Mazari.
A GRIM ACCIDENT
At the age of 21, while she and her husband were traveling to her hometown, they got into a car crash. Her husband survived uninjured. Muniba, on the other hand, was unlucky. She was trapped in the car wreck. Half of her body was fractured and the other half was paralyzed. Luckily, she was rescued by some passers-by and taken to the hospital where she stayed for months.
PAINTING AWAY HER TROUBLES
While in the hospital, she was devastated. The doctors told her that she wouldn't be able to walk or give birth due to her injuries. She was tired of seeing her once-happy family broken. Hence, she decided to do the one thing she had always loved to do since childhood: paint. She asked her brothers to bring her some brushes, colored paints, and canvas. With those, she began to paint.
Here she is: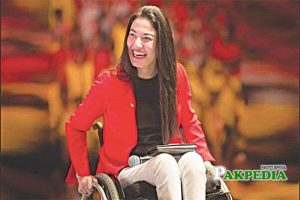 FACING HER FEARS
After being in the hospital for almost three months, she was discharged. She discovered that she had developed a lot of pressure ulcers on her back and her hip bone so she was not able to sit. Doctors recommended that she lie down straight on her bed. For two years, she was bedridden. When she sat in the wheelchair for the first time, she decided that she was going to change her life forever.
"I cannot wait for a miracle to come and make me walk. I cannot sit in the corner of the room crying and cribbing and begging for mercy because nobody has time. So I have to accept myself the way I am. The sooner, the better."
She said this while looking at herself in the mirror. She decided to face the biggest fears she had:
1) Divorce
Though she was afraid of losing her husband who was divorcing her, she decided to let him go.
2) Motherhood
She was afraid she would not be able to be a mother again. She realized that there were so many children in the world in need of acceptance so she adopted one.
3) Facing people
She was tired of people pitying her. She couldn't stand the looks on their faces whenever they saw her, but finally she overcame that fear and realized that most people who look at her that way don't mean her ill will.
BREAKING THE BARRIER
Muniba started to appear more in public to show her courage and fearlessness. She also wanted to show the world that she was perfect in her imperfections.
Here's how she did it and what she did:
She became Pakistan's first wheelchair-bound artist.
She did modeling campaigns for brands such as Toni and Guy.
She refused to become a victim of polio campaigns.
She became an anchor on Pakistani Television and started doing her own shows.
She became the national goodwill ambassador for UN Women Pakistan.
She was featured in BBC 100 Women 2015
She was featured in Forbes 30 under 30 2016.
She received an award for humanitarian services in Pakistan from the Karic Foundation.
She received the Hum Women Leaders Award.
MUNIBA'S HEROES
Muniba mentions three people who she recognizes as heroes in her life:
Waleed Khan protected students from a Taliban attack in their school and his face was injured.
Her son, Niele, has always been patient with her and loving towards her no matter what her challenges are.
Her mother has been a strong shoulder to lean on when she is in pain.
MUNIBA'S QUOTES
I couldn't find a hero so I became one.
When you accept yourself the way you are, the world recognizes you.
Problems are not too big; we are small because we can't handle them.
Live your life fully, accept yourself as you are, and be kind to yourself.
Real happiness lies in gratitude.
Another of her favorite is one said by Waleed Khan:
These scars are my medals and I wear them with pride.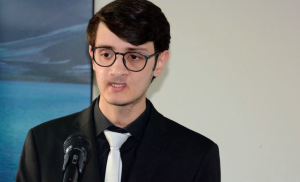 REFERENCES
Muniba Mazari.https://en.wikipedia.org/wiki/Muniba_Mazari
Tribune. (2022, December 18). Muniba Mazari: The Iron Lady of Pakistan.https://tribune.com.pk/story/2346550/muniba-mazari-the-iron-lady-of-pakistan
YouTube.(2018).MUNIBA MAZARI- We all are Perfectly Imperfect.https://www.youtube.com/watch?v=fBnAMUkNM2k
YourSelfQuotes.(2022, January 5). Muniba Mazari Quotes to Help You Think Big(The Iron Lady of Pakistan's).https://www.yourselfquotes.com/muniba-mazari-quotes/